Dental Bridge Upland CA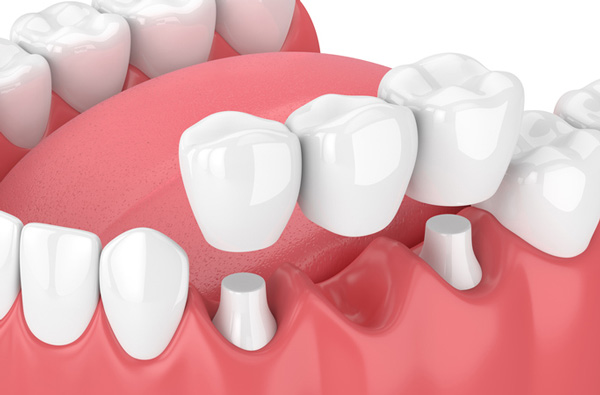 When you show up to our Upland dental office with a missing tooth, we have a range of teeth replacement options.

A dental bridge is a prosthesis that replaces the lost or missing tooth with a replacement tooth. The prosthesis is made up of crowns that are placed on adjacent teeth to support the artificial teeth, also known as pontic.

If you are seeking to replace your missing teeth, you can consult with us at Higher Ground Dentistry to see if bridges can work for you.


Who Needs Bridges?

A patient will need bridges if they have lost their teeth. The bridge fills the gap. Often, you may lose teeth from gum infection, injury, extraction, or decay. Sometimes, you can be born without teeth as a result of congenital issues.

A dental bridge is suitable if you still have adjacent teeth in place. The reason is that typical bridges have to be held in place by crowns that rest on the bordering teeth.


Types of Bridges

A dentist will fit bridges depending on your needs.

A cantilever bridge is one in which the pontic is attached to one tooth for support. It is often recommended to patients who have teeth within one side of the area left after losing the tooth.

A traditional fixed bridge has two crowns and filler teeth. Bridges are mostly made of porcelain-fused-to-metal, ceramics, porcelain, or metals.

There are also implant-supported bridges, which are similar to the conventional bridges but are not supported by the adjacent teeth. Instead, an implant is used to support them. Therefore, they are more stable.

Maryland dental bridges are another type and are constructed of metal fused on ceramic or porcelain material. This bridge consists of wings on both sides. The wings are bonded to the existing natural teeth.

Ask our Upland dentist which type of bridge best works for you.


Dental Bridge Installation

Typically, fitting a bridge requires two dental visits. In your initial visit, a dentist will examine you and reshape the abutment teeth. The dentist removes some areas of the dentin as well as the enamel in order to create space where the crown will go.

The dentist takes impressions of the teeth or performs a computerized scan. The scan or mold helps to create the bridge, replacement teeth, as well as crowns. You will get a temporary bridge that helps protect the areas that have been filed down as you wait to come back for the permanent bridge.

On the second visit, the temporary bridge is removed and the permanent one fitted. Any adjustments are made to make sure everything fits properly.


Caring for Bridges

Ensure proper oral hygiene after receiving a dental bridge. This helps prevent gum infection or decay. Avoid chewy fibrous foods. Our team will provide you with tips on how to floss and brush with bridges. Remember to make your regular visits so that you have the prosthesis checked and have your teeth and gums cleaned. Dental bridges can endure for about five to seven years with proper care, sometimes even more.

Visit us at Higher Ground Dentistry for dental bridge installation. Call us at 909-377-0758 to book your appointment.