Dental Implants Upland CA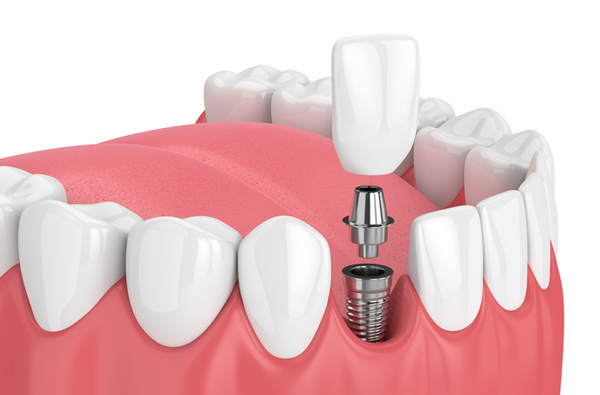 Loss of teeth is common among adults and children. You may lose teeth from things like injuries, decay, infections, and extraction. In the past, patients needing solutions for teeth replacement relied on dentures and bridges.

However, nowadays, you can have dental implants fitted in our dental office at Higher Ground Dentistry. When you lose teeth, implants can help restore the bite. Our Upland dentist secures permanent posts or screws onto the jaw that hold the artificial teeth like dentures, bridges, or crowns. Dental implants can replace a single tooth or several ones. Dental implants offer a strong foundation to install removable or fixed teeth developed to match the color and look of the other teeth.


Who Can Get Dental Implants?

Patients who are healthy enough to receive oral surgery or get a dental extraction can qualify for implants. You need to have sufficient bone that is strong enough to get dental implants. The gums need also to be healthy to hold the implants. Additionally, you should ensure you can keep pace with oral care and hygiene and you do not skip regular visits to our dental office. If you smoke excessively or drink heavily, you will need to stop those habits first. And if you have chronic diseases including heart disease and diabetes, you need to get them managed and under control before implant placement is done. Our team wants to make sure that your implants are successful and there is no risk for complications or failure of the prostheses.


Implant Procedure

It requires several months to have a dental implant procedure completed. However, there are same-day implants you can get to help with chewing and offer protection to your bite while waiting for permanent crowns. In the event that you have a badly decayed tooth, our dentist will extract it. During the extraction, you also receive bone grafting to help in the preservation of the bone. This will ensure that when you come for your dental implantation, you have adequate jawbone mass.

During the implantation, the dentist inserts metal screws made of titanium to the jaw within the area where there is a missing tooth. It will take several months before the titanium screw implant integrates with the bone, often around three to six months. It is after this period that you come for the placement of the permanent teeth.


Care for Implants

In the first week, you can take the pain medications that the dentist prescribes you. This helps reduce pain and soreness. Expect some minimal pain after receiving your dental implants, but this should be taken care of with the pain medication. Make sure you eat soft food because the hard foods can injure the wound. Limit your exercise in the first week following the surgery. Our team will guide you on how you can ensure proper oral hygiene and protection of artificial teeth.

When it comes to brushing and flossing, you do it normally. You also need to rinse the mouth with mouthwash after eating. We will give you any other post-op care instructions you need for your implants as well as your teeth and gums. Make sure you follow them as required to ensure a speedy recovery and prevent the occurrence of complications.


Benefits of Dental Implants

Dental implants appear natural, like your real teeth. They integrate into the bone becoming part of it. You will not bother about things like dentures slipping out of the mouth. Dental implants are very durable and can last a lifetime. Unlike prostheses like dentures, you will not need to remove your dental implants. Once you heal, you can eat any food you like and they feel comfortable in the mouth.


Schedule an Appointment
Feel free to consult with our Upland dental team at Higher Ground Dentistry. Give us a call at 909-377-0758 to set up your appointment today!