Oral Cancer Screening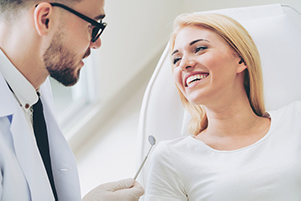 You may not have thought about it, but the annual dental checkups you receive help more than only improving and protecting your bite. Once you consult our team at Higher Ground Dentistry, you will be evaluated for gum and teeth or jawbone issues. Besides, you also undergo screening for oral cancer. Many times, people fail to realize the importance of early detection of cancer. This disease can only be effectively treated if it is diagnosed and identified early enough. If you have not had an oral cancer screening lately, you should get one sooner than later. To ensure your oral cavity stays healthy, we suggest that you come to see our dentist at least one time a year to have an oral cancer screening or evaluation. During your twice-a-year checkups, you can ask us to screen you for the disease.


Who Needs the Screening?

Everyone should be screened for oral cancer, however, if you have a high chance of developing it, you need to make sure you are screened more often. Individuals who excessively drink alcohol or those who have previously been diagnosed with oral cancer need to get the screening. If you use cigarettes, snuff, or tobacco, it makes sense you get an oral cancer screening because you are considered to be at risk. Patients who have not gone for screening in the past years are also ideal candidates for screening. Our team will provide you with more information on the way you can reduce the risks of the disease such as quitting smoking and reducing the consumption of alcoholic drinks.


The Procedure

Expect to have two parts of the procedure. In the first part, our dentist carries out visual and physical exams. The dentist checks areas of the mouth and face including the palate, gums, teeth, face, nose, neck, and tongue. If you wear oral appliances, the dentist removes them, including retainers to thoroughly examine the oral cavity. Removing these appliances helps the dentist see all the tissues and areas of the mouth that are considered vulnerable to the development of oral cancer.

The specialist goes further to check for irregularities with the oral cavity such as red patches, swelling, white patches, bumps, sore patches, and other signs that could point to oral cancer. Using a small light along with a mirror, the dentist looks inside the nose. A tongue depressor is used to check the areas in the back region of the throat.

When conducting the physical exam, the specialist looks at the cheeks, head, and areas around the jaw. Moreover, he or she looks out for tissue masses or the presence of nodules. The presence of these abnormal tissues or nodules necessitates further examination like performing a biopsy. A special device designed to identify precancerous cells may also be used. The devices help shine a light through the oral cavity to have a clearer look and checkup of the tissues.

An oral cancer screening is helpful in that you are able to get treatment in time, which is crucial for successful treatment results. During the screening, it is possible for the dentist to unearth other oral issues that could have remained undetected, thus ensuring they are addressed too in time.

Contact us to find out why you should have an oral cancer screening. Visit our office at Higher Ground Dentistry or give us a call at 909-377-0758 for an appointment.