Sleep Apnea Treatment Upland CA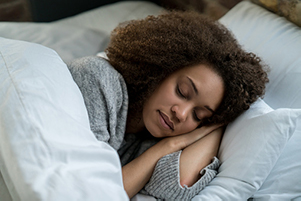 An estimated 25 million American adults struggle with sleep apnea, says the American Academy of Sleep Medicine. If you are among these people, you should realize that numerous kinds of treatments are now available for sleep apnea than in the past. Many people seeking treatment are able to overcome this disorder and its effects.

Our Upland dental team here at Higher Ground Dentistry focuses on how sleep apnea impacts your oral health. We offer solutions for this disorder, ensuring that your dental health has not been put at risk.


Types of Sleep Apnea

There are mainly three types of sleep apnea. There is obstructive, central, and then mixed sleep apnea.

Often, the most prevalent type of this disorder is obstructive sleep apnea. People with the condition have difficulties breathing as a result of the upper airway being blocked during sleep. A patient repeatedly experiences blockage of the airways causing them to stop and resume breathing continually. A patient may have breathing pauses that last for a couple of seconds to minutes. These pauses occur more than 30 times an hour perhaps because the muscles within the back region of the throat are flaccid or your tongue is too large. Also, a jaw that is very small can cause obstruction of the airway.

Sleep apnea can cause disruptions to your sleep patterns. It can also prevent oxygen from flowing adequately to vital organs. Sometimes, you may even have heart rhythm troubles. The blockage can be partial or complete, and a person displays body jerks and loud gasps as they resume breathing.

Central sleep apnea does not involve blockage of airways, nonetheless, the brain fails to signal or relay vital information to the muscles to make them allow breathing. Issues with your respiratory control center are believed to be the culprit for this sleep apnea. People with central sleep apnea may not benefit from oral appliances.

A patient may have a combination of central and obstructive types of apnea. This is called mixed apnea.


Impact of Sleep Apnea on Teeth

If you have sleep apnea, you notice that the first sign is tooth grinding, also called bruxism. Many of our patients present with trouble sleeping because of sleep apnea. We examine them for dental issues such as worn-out tooth surfaces.

The force exerted to teeth surfaces from grinding tends to cause wear as well as breakage of the teeth. As such, a patient may have other problems due to weakened or fractured teeth. For instance, you may suffer cavities, gum inflammation, or gum recession due to the dental effects of grinding.

Moreover, sleep apnea has been linked to increased odds of having obesity, high blood pressure, heart disease, and diabetes.


Treatment for Sleep Apnea

Our Upland dental team can help if you experience obstructive sleep apnea. We will create a treatment plan that works for you. Frequently, a CPAP machine is considered the most common treatment for the disorder, but some patients may not benefit from it. We may recommend an oral appliance that looks like a mouth protector for athletes. Oral mandibular advancement devices can help stop the tongue from causing blockage to the throat.

Our Upland dentist uses impressions of your teeth to help fabricate the device. You will later on visit our office to have it fitted. A repositioner may also help in realigning the bite once you take away the appliance each morning.

Get more information about treatment for sleep apnea at Higher Ground Dentistry. Reach us by phone at 909-377-0758 for an appointment.