Sportsguard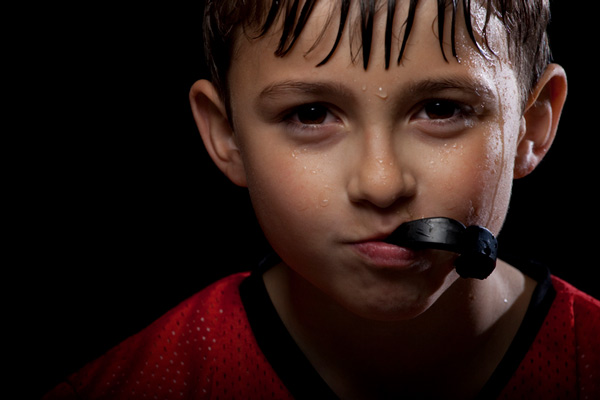 Many of us love engaging in sports whether for leisure, fitness, or competition. Participating in sports can contribute to injuries of the mouth. We advise that you wear sports mouthguards whenever you are taking part in these activities. These oral appliances are worn on the upper arch of teeth to help offer protection against tooth breakage, cuts on the lips, or other injuries. When you make a trip to our office at Higher Ground Dentistry, we examine your bite and fabricate a mouthguard to wear during sports activities.


What are Sports Mouthguards?

If you are wondering what a sports mouthguard is, it is a piece of oral appliance worn by athletes while engaging in contact sports or other activities that can injure the teeth, gums, and lips. Think of the mouthguards that boxers wear in the ring. Any sports activities likely to bring serious injury to the mouth and lips necessitate wearing a mouthguard. A person wears these appliances over the teeth to ensure protection from oral injuries. You can receive custom-made or ready-made sports mouthguards, but we vouch for custom-fit ones.


Types of Sports Mouthguards

You can choose the boil and bite mouthguards or the custom-fit protectors. There are also other types such as the stock mouthguards. Before making the customized mouthguards, we first create an impression capturing your teeth and we use it as the model for constructing the mouthguards. We can also take 3-D images to have measurements for your bite so that we fabricate mouthguards that fit comfortably.


Benefits of Sports Mouthguards

Make sure that you care for the mouth protectors so that they last a long time. Wear them during sports so that you do not risk damaging the nerves from injury or falls. The oral appliance also helps prevent breaking or chipping your teeth. Wearing them prevents loss of teeth from injury. They prevent damage to the cheeks, lips, tongue, and gums.


Caring for Sports Mouthguards

Avoid chewing at the oral appliance since it becomes weak and less effective at offering the protection you need. When fabricating the mouthguard, we ensure that there are no sharp edges that can cause damage to soft tissues like the gums. When you finish your sports activities, check the appliance to ensure no damage has occurred. If you see any, you can come to our office for a replacement.

Mouthguards will rest in the mouth for many hours, during which they accumulate bacteria as well as food remains. The bacteria along with the food particles can lead to decay because they spread to the areas of the mouth like the gums and teeth. Ensure you properly clean your mouthguards whenever you take them out. Clean them before wearing them. If they are weak or worn out, ensure you have a replacement. After fabricating the mouthguards, our team offers you instructions on how you should keep them clean.

Avoid using abrasive substances such as alcoholic soaps or toothpaste. Clean them with cold water, a soft brush, and a special solution to kill bacteria and get rid of food remnants. When not using it, rinse the piece then put it in a storage container. Ensure you place it in a location with room temperature until the next time you head for your sports events.

Visit our office to get your sports mouthguard at Higher Ground Dentistry or call us at 909-377-0758 for an appointment.