Dental Crown Upland CA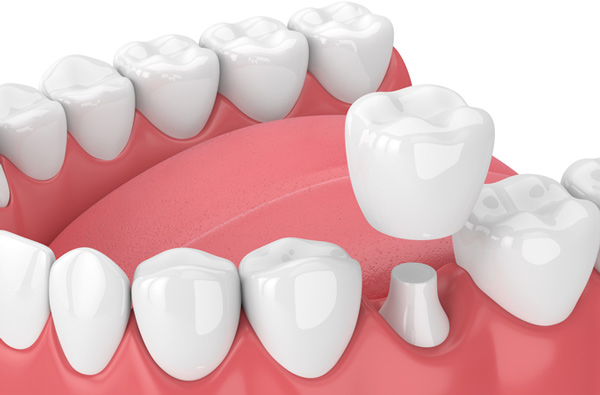 Also known as tooth caps, dental crowns are used to cover damaged teeth and prevent further harm. If a tooth is chipped, decayed, or cracked past what a dental filling procedure can fix, our Upland dentist can use a dental crown to cover it.

Dental crowns can help restore the size, appearance, and shape of the teeth. In the past, crowns were fabricated from metal, but today, our team at Higher Ground Dentistry offers various options including resin, porcelain, and ceramics, in addition to metal crowns.

Below, we'll discuss the type of material to use when you come to our dental office.


Types of Crowns

When you are scheduled to get dental crowns, you may have them made of materials like metal. For example, they can be made of a combination of chromium, gold, nickel, and palladium. If you are seeking a durable and strong material, metal is an ideal choice. Metal crowns barely break or chip. Also, metal crowns withstand the forces of biting and chewing and are a great choice if you are seeking solutions for out-of-sight molars.

There are also crowns fabricated from resin material. With these crowns, they are not very costly like the other types, however, over time, they wear out. They can also break easily compared to metal ones. Porcelain-fused-to-metal crowns may be used if you want to match the color with that of the teeth. Press ceramic is another type of crown and they comprise a hard inner core. With these crowns, they are capped with porcelain material, giving them the advantage of a prosthesis that matches natural teeth in color. You may consider press ceramic crowns if you have allergic reactions to metals, but they may not be as strong.


Crown Fitting Procedure

Your initial visit will involve an examination of the teeth that need to get the crown. Our dentist prepares the teeth and an x-ray is done to get a better view of the tooth as well as the surrounding bone. If our dentist finds any risk of decay, infection, or injury to the pulp, he does a root canal treatment. Therefore, our dentist files down the tooth scheduled to receive the crown. The filing is done on the top areas, across, as well as sides. The aim of filing down the tooth is to make room for the crown.

Dr. Sikka then makes an impression of the tooth receiving the crown. Additionally, he gets an impression of the tooth situated above or below the one needing crowning. The impression helps construct the crown. Initially, you get a temporary crown that covers and protects the filed-down surface. You will then wait for another visit where you receive your permanent crowns.

On the second visit, our dental team removes the temporary crowns and installs the newly fabricated permanent crowns. Our dentist checks to make sure they have fitted properly and the color matches that of the teeth. During the procedure, anesthesia is administered to ensure comfort.


Taking Care of Crowns

Dental crowns can endure for more than 15 years. Expect somewhere between five and 15 years before you need replacement crowns. The duration of survival for crowns depends on the care you give them. You need to protect them and ensure you do not chew ice or bite on hard foods. You should get a mouthguard if you have a habit of grinding or you clench your jaw. Brushing and flossing are paramount, particularly around the crowns and areas in which the teeth meet the gums.


Schedule an Appointment
Visit us at Higher Ground Dentistry to get dental crowns in Upland CA. Schedule your appointment today by calling us at 909-377-0758 today!