Mouthguard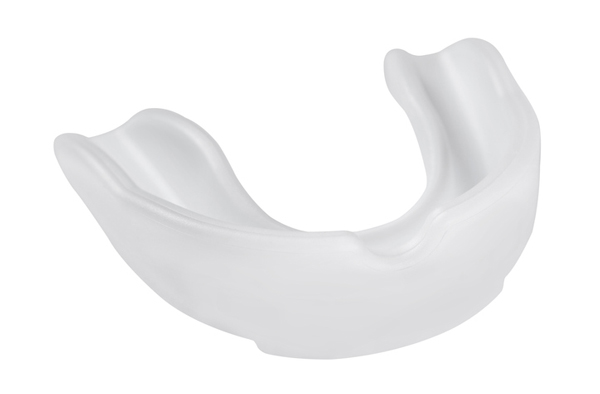 You may have heard of bruxism. It is what we sometimes call teeth grinding. Many people live with this problem not knowing that it can damage the teeth. People who constantly grind their teeth often are left with damaged tooth enamel. The disorder also causes cracks and chips or makes the teeth get loose. Patients who wear braces may find that their oral appliance gets damaged due to jaw clenching or teeth grinding. After you visit us at Higher Ground Dentistry, our team will ask questions regarding your bite and whether you grind your teeth. You may receive custom mouthguards to put on at night to help keep the teeth (and braces if you have them) protected from the force of grinding or clenching.


What is a Mouthguard?

If you are wondering what a mouthguard is, it is simply an oral appliance that allows you to keep your teeth protected. A dentist can fabricate a custom mouthguard that fits in your mouth properly. Based on what kind of issue you are seeking to address, be it sleep apnea, protecting braces, or protecting your teeth, our dentist will construct a piece that works specifically for your mouth.


Types of Night Guards

When you present to our dental office with teeth grinding problems, we can help you get the mouthguard you need to wear. There are various options available. Boil and bite mouthguards are one of the mouth protectors you can wear. These are fabricated from thermoplastic material. Prior to putting the appliances in the mouth, you dip them in hot water and press with your fingers, or the pressure of the tongue once they are in the mouth.

There are also stock mouth protectors that are already fabricated. These ready-made mouthguards may not be as costly as the customized ones. However, they have a downside in that you will not be able to adjust their fit since they are pre-fabricated. When you visit our office, our team will discuss with you the mouthguard options we have.

We often recommend custom-made mouthguards because they are comfortable to wear. They do not feel awkward in the mouth. A dentist makes an impression on the teeth including the upper and lower arch. Using the impression, the dentist sends the mold to the lab for the construction of the mouth protector pieces. Because these tailor-made mouthguards require more time to fabricate, you will come back for another appointment to get them.


Caring for Mouthguards

Your mouth protectors will stay in the oral cavity for many hours while you sleep. Therefore, they will trap bacteria and debris. It is crucial you keep them clean. Before and after use, make sure you clean them. We provide you with proper instructions on the way you should clean your mouthguards.

Using water and non-abrasive toothpaste is recommended to prevent scratches that allow bacteria to lodge. You may also clean them with non-alcoholic soap and water.

Talk to us about receiving mouthguards. Visit us at Higher Ground Dentistry or call us at 909-377-0758 for an appointment. We will explain to you how these pieces can benefit you if you clench or grind your teeth. We also check for any other dental issues you might be struggling with such as damaged enamel or decay.